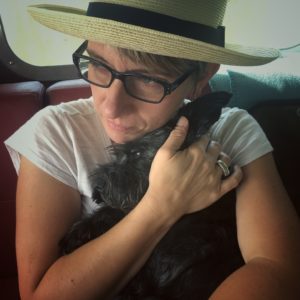 A couple of weeks ago, Mina, our intrepid little road dog, slipped the surly bonds of earth. Her sweet, scrappy little soul brought love, connection and joy for well over 17 years. These past days have been smattered with bouts ranging from the sort of tears that catch you off guard to full on "ugly crying." But even in the midst of tears, our hearts can't help but swell with love an gratitude for the gift of her bright presence for so many years. Godspeed to our favorite little polar bear (garbage gut), honey badger (didn't give a shit), Mina Puppy!
Keep reading for Cari's tribute to her long-time companion and BONUS dog…
MINA – MY BONUS
June 5, 2001-November 27, 2018
"It was a great run. It was a great life. It was a great love."
———
Everything about Mina always felt like a BONUS. When we found each other, I was visiting a breeder to check out some younger, salt & pepper schnauzer pups to decide which one I wanted to put my name on. Here comes this little black ball of energy in from the kitchen and starts dancing and playing around. "Who are you?" I say (I
didn't know there was such a thing as a black schnauzer). She was 8 weeks old and the last left of her litter. Her one remaining brother had been taken home by a family that morning. She was the runt, and had a little white hair on one of her back feet that made her not fit to be a show dog. So everyone passed her over. Of course they did. She was meant for me. BONUS.
The hair of black (and white – there are those too) schnauzers is almost always softer and less wiry than the grey ones. BONUS.
She potty trained well, was super loving, spunky and social…and took quickly to being my sidekick…everywhere. BONUS.
For years she was just that. Her little soul was a consistent source of joy and unconditional love with a great, magnetic energy that was undeniable. She was there to celebrate with me at the sunny mountaintop moments and was a soft, warm, comforting snuggle in the chill of the valley. There are good dogs, there are great dogs, and then there are little Buddhas in dog suits. She was the latter. BONUS.
When she was 11, she started having seizures. The vet said it was either canine epilepsy or a slow-growing brain tumor but the treatment of anti-seizure meds would be the same either way. And that if it was a brain tumor, she likely wouldn't be with us very long. It has since been all but confirmed that it was, indeed, a slow growing tumor…and she carried on for another 6.5 years (she was, after all, a honey badger at heart). So every additional year she decided to stick around and keep sharing joy and love felt like a…you guessed it…BONUS.
Back in May, when we were on the way to TX, she had a terrible cluster of seizures. 9 in less than 14 hours. Just one grand mal seizure is exhausting, and that many in a row had her nearly catatonic for another 18+ hours. During that dark night, I held her…and cried…and comforted her…and cried. In the years after her diagnosis of likely brain tumor, as I continued to marvel at her longevity in spite if it all, we would have talks that consisted of me thanking her for sticking around, my commitment to always be here for her for as long as she wanted to keep doing that, and asking her please to communicate as best she could when she was ready to transition to something else so that I could find the courage, if necessary, to be there for her in that as well. I was beginning to think that's what was happening back in May. That's why all the tears…I thought it might be time to say farewell for now. But at around 2am that morning, she lifted her head for the first time in nearly 24 hours and wanted a drink of water. Thus began her recovery back to a similar state of normal (considering her age). BONUS.
This summer she made it to 17 and we celebrated with snuggles and ice cream. BONUS.
Over the course of that last few months, it was becoming obvious that we were in the late winter of her life-year. Less appetite, less active, more sleeping, more frailty, some confusion…to go along with the
near blindness and deafness that had been significant for at least a few years now. She was such a badass though, that except for occasional trip up in new surroundings and the milkiness that had settled into the windows of her mischievous little eyes, most would barely guess her limitations and would guess her at a fraction of her age. She was so fierce in her determination. And even as her little body continued to show signs from years of good service, her spirit kept glowing brightly and her temperament remained sweet and joyful…if a little groggy at times from meds and occasional seizures. BONUS.
Three weeks ago, she started to really struggle. By the end of a week and a half, it seemed that her long-compromised nervous system had, at last, taken over in a way that she could not break through. The hallmarks were head twitching, insomnia, and incessant pacing…back and forth…in circles…day and night. Her sweet little soul was still in there, it just wasn't at the helm of her well-traveled little body any longer. She had begun to send me the messages I had asked for…I just had to find the courage and selflessness to have her back one more time. Her last day with us, she refused food no matter how we doctored it. I took her outside to walk a bit in the fresh air as I struggled with the decision to help her break free of her worn out little body. I bent down to scratch behind her ears and she slumped into my arms as another seizure took hold. One last message: "please.
" Strange as it sounds, in this case, the seizure was almost a blessing. The energy expended had a settling effect and allowed her a brief bit of rest. We picked a pretty spot outside in the grass, under a big tree in the sunshine on a lovely, mild Texas afternoon. I bundled her in a well worn blanket and held her in my arms…whispering words of love and gratitude as she broke free…my hand held against her heart…not letting go until her little spirit did. It was one of the most painful moments of my life…and one of the most beautiful. She was one of my soulmates on this journey, and I'm so fortunate that she chose me to be her copilot too…for over 17 years. It was a great run. It was a great life. It was a great love. BONUS. BONUS. BONUS.